When Trash Become Art? Let's Ask Patrizia Iacino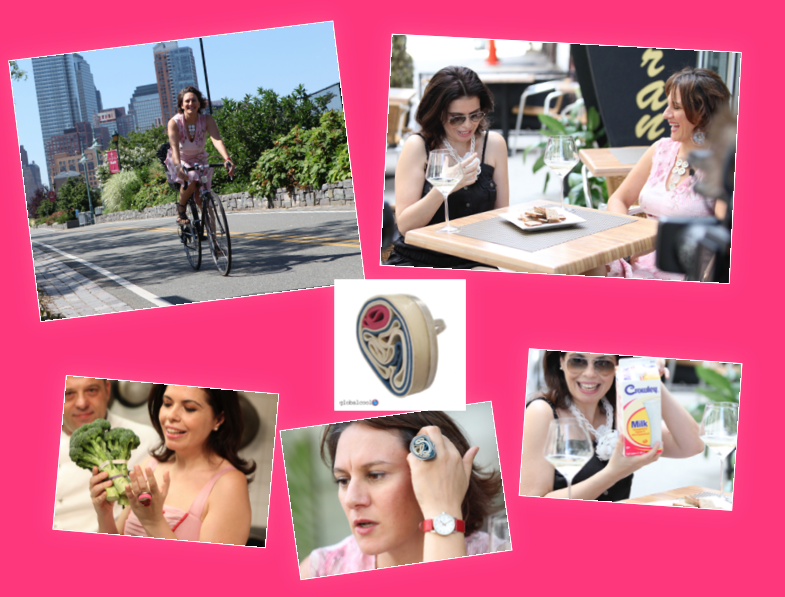 When Trash Become Art? Let's Ask Patrizia Iacino
Several years ago I got a nice message on Facebook from a young and talented woman.
It would have been just like any other message except that I got it from a woman with such an interesting story.
Let me introduce to you Patrizia Iacino. Patrizia was born in Calabria but at the age of 18 she moved to Florence to study at the University of Firenze, where she earned a degree in architecture. In 2001 Patrizia arrived in New York City where she started to work as an architect. But several years later Patrizia took a new path, a path that would bring her to create a new form of art.
I had the pleasure to have Patrizia guest in one of my TV show, she arrived in style with her bike because Patrizia is ecologic from A to Z.
During the filming I was wearing some of her cool jewelry made with some interesting "trash", my neckless is made from the little white  plastic circle that you find when you open a box of milk and the famous ring (from the Sal collection) is made with the thick rubber band that you find around the broccoli.
Over 10 years ago Patrizia made her debut in the art of ecological jewlery and created her company called "GLOBALCOOLO" ("Yes! COOLO!" she says ironically when people ask). "Coolo," or "culo" as it is properly spelled, means "butt" in Italian. "It literally means 'global butt," Patrizia said with a loud laugh.
Learning more about Patrizia, her work, energy, and passion, as well as the imagination that she brings to it, I get more globalcool and more amazed.
To Patrizia, the real job is to give a second chance to items that have been trashed all over mother earth. These items include bottle caps, rubber bands used to tie vegetables, contact lens boxes, and much more.
Patrizia gives all these otherwise discarded items a new life and consequently, a new home.
Patrizia remarks, "Every day bottle caps of all kinds fall to earth. My job is to pick them up and give them another life."
After learning the extent of what Patrizia does, I remember thinking to myself  "I believe that Patrizia and I have something in common"….  The same appreciation for beauty has brought us together what about launch a line of Brindiamo! jewelry made with items from food packaging, HOW COOL IS THAT?
From now on, when I film a Brindiamo! shows I will make sure to bring home some trash that Patrizia will turn into something beautiful and cool!
If you want to be cool and you find Patrizia jewels cool trendy and fun "like" her page at  Patrizia Iacino's Facebook page
Cover photo credit: Stephen Shadrach