My Wonderful Trip to Apulia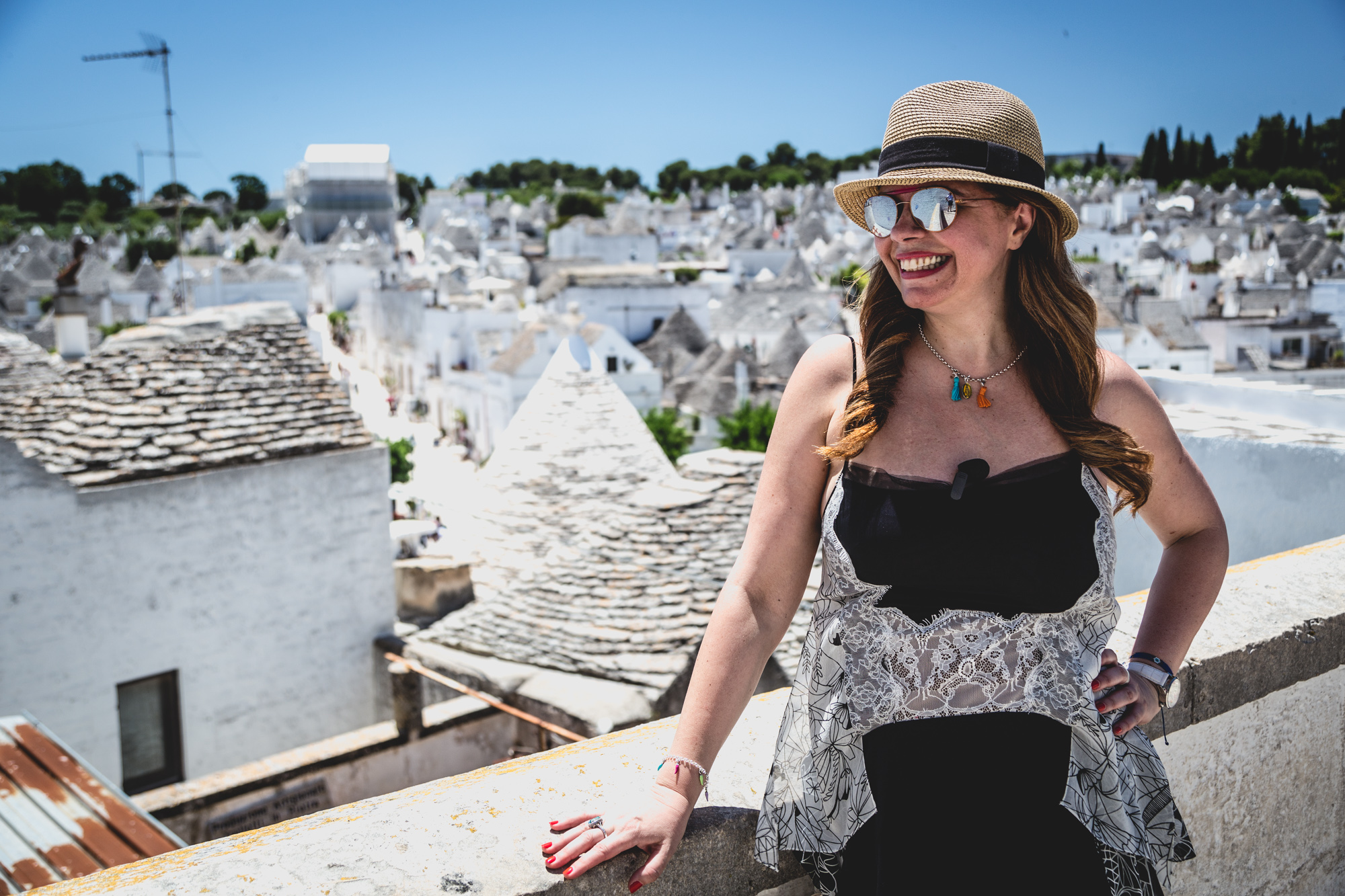 Today is a week since I am back from my wonderful trip to the region of Apulia, (and Greece) and I would like to share with you my experience and some tips!
To start I would like to Thank I ARCHEOS, for the kind invitation and for the amazing hospitality.
WE HAD A BLAST!
I don't want to bore you with every single moment of my trip, but I think you will enjoy some of the " Best of " this amazing experience. So let me start from my arrival in Mola di Bari, a picturesque little town not too far from Bari the capital of the region of Apulia.
As soon as I arrived at the Aeroporto a car service was waiting to bring me and the rest of the guests to Mola, our B&B is called CASA DA MARE, this charming B&B is situated right in the center of the town of Mola, the location was perfect just as the rooms and the service.
After a quick change, we are meeting the rest of the team for lunch, and soon after we are ready to do a quick tour to the most relevant monuments of the town starting from la CHIESA MADRE, ending to PALAZZO PESCE, and everything between.
First Evening in Mola Di Bari
Around sunset we are heading to the cooking show stand to meet Chef Pasquale Martinelli, (a native Molese, living in New York City where he runs a home- chef business called Alloro). With Chef Pasquale we prepared a typical, simple and delicious spaghetti called "Spaghetto alla Sangiuannid".
Fun fact: while the pasta was cooking I took the time to ride a bike around the port.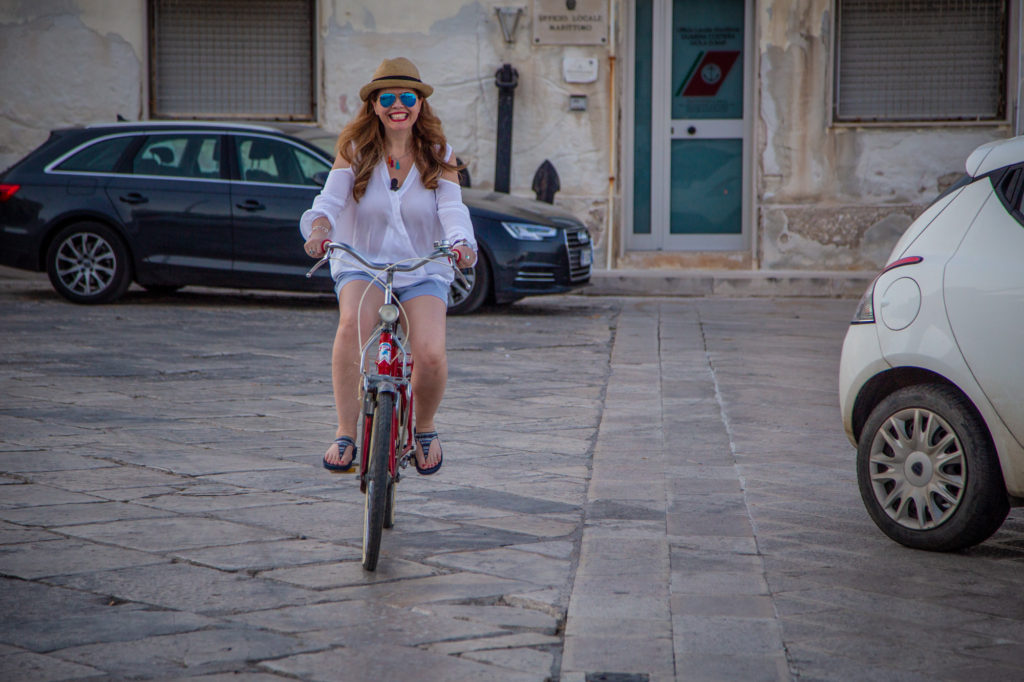 Our second day starts early, we pay a visit to an onion farm, called Azienda Agriconetto where we also had the pleasure to meet the Mayor of Acquaviva delle Fonti Mr.Davide Carlucci, I learned more about this red onion, special for the sweet flavor and pretty round shape, the onion is used for tasty marmalade as well. I could not resist pulling an onion my self and this fun moment was caught on camera by one of the journalists on board Mr. Antonio Lorusso. (thank you!)
See this fun moment: https://www.instagram.com/p/BzQ5hFahZM2/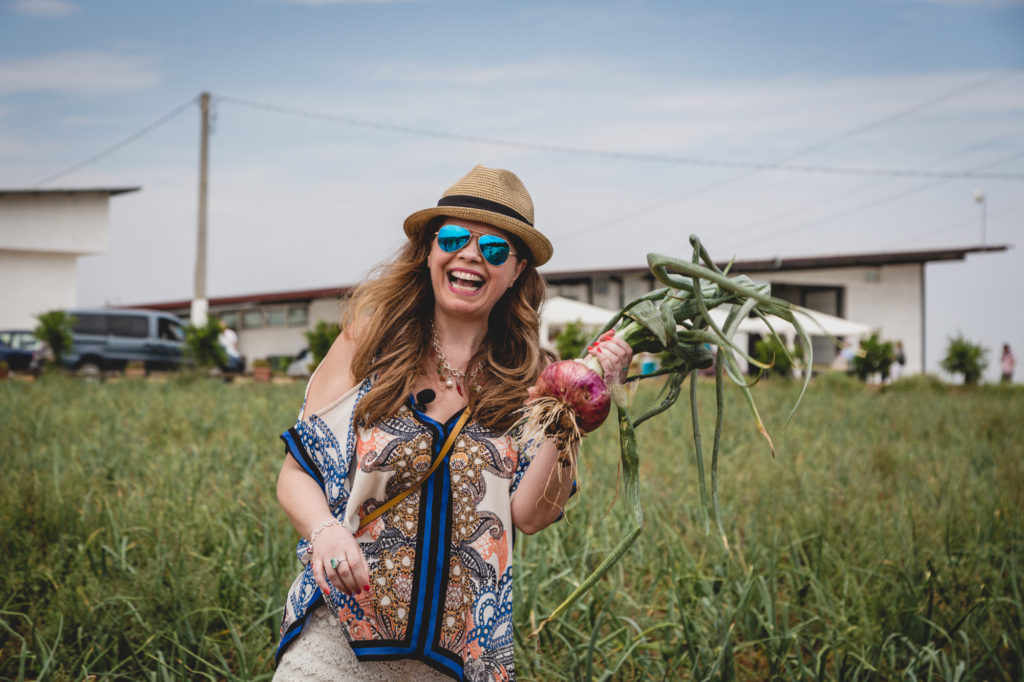 After a Toast with everyone, we head to a winery called POLVANERA
Polvanera is a family business winery that has been grown very quickly in the past years, this winery become well-known thanks to the quality of the grapes and to the progressive and young approach to their business. I learned that they let their wine "rest" in the stainless steel instead of wood barrel, and to tell you the truth the result is pretty amazing and this has become a new trend among the young wineries in Italy.

Our visit ended with a delicious lunch under the Pergolato!
Our day did not finish here actually we have few more exciting things to do ahead of us, One is meeting our fisherman at the port as they bring the "catch of the day" and than visit the fish market where I was amazed by the variety of the fish and shellfish.
Soon after the fish market, I need to transform myself as we meeting at the Castle the team of Teatro Publico Pugliese, the Mayor of the city of Mola di Bari Giuseppe Colonna and the journalist Mr. Antonio Lorusso.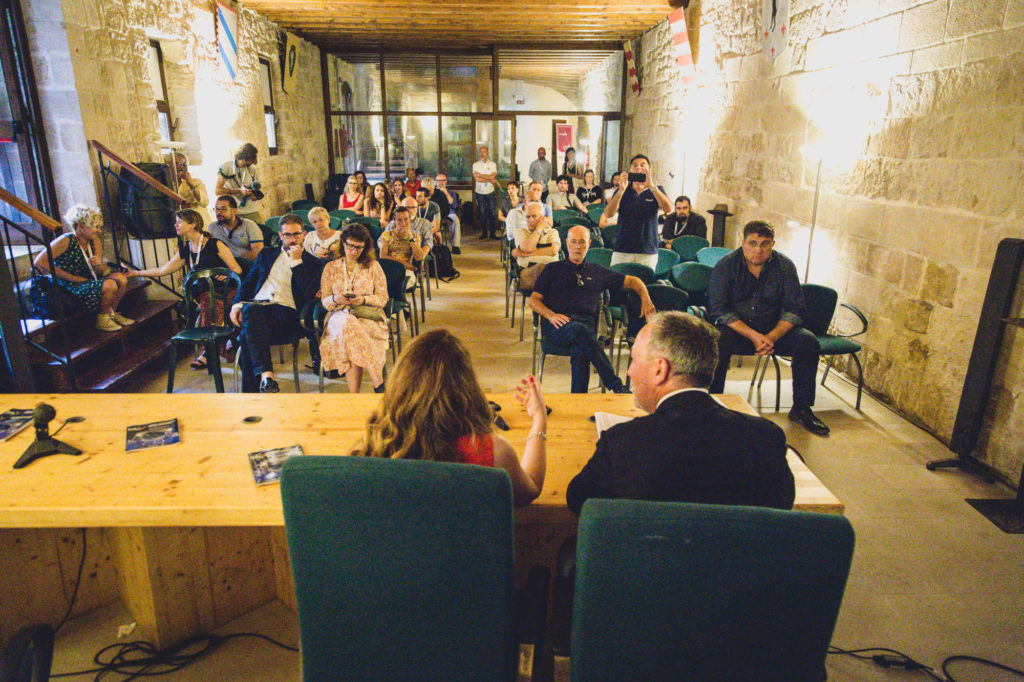 The first night it was my turn to be interviewed by Mr. Lorusso, a well known on-camera journalist of TELE NORBA.
Antonio first introduced me and my work with a video of Brindiamo! and then we chat about the role of Brindiamo! that in the past 15 years had the responsibility to share with the American audience the very best of Italy, the fine products the very unique stories and traditions of our beloved country ITALY.
The following days we all are very exciting about our special visit to le GROTTE DI CASTELLANA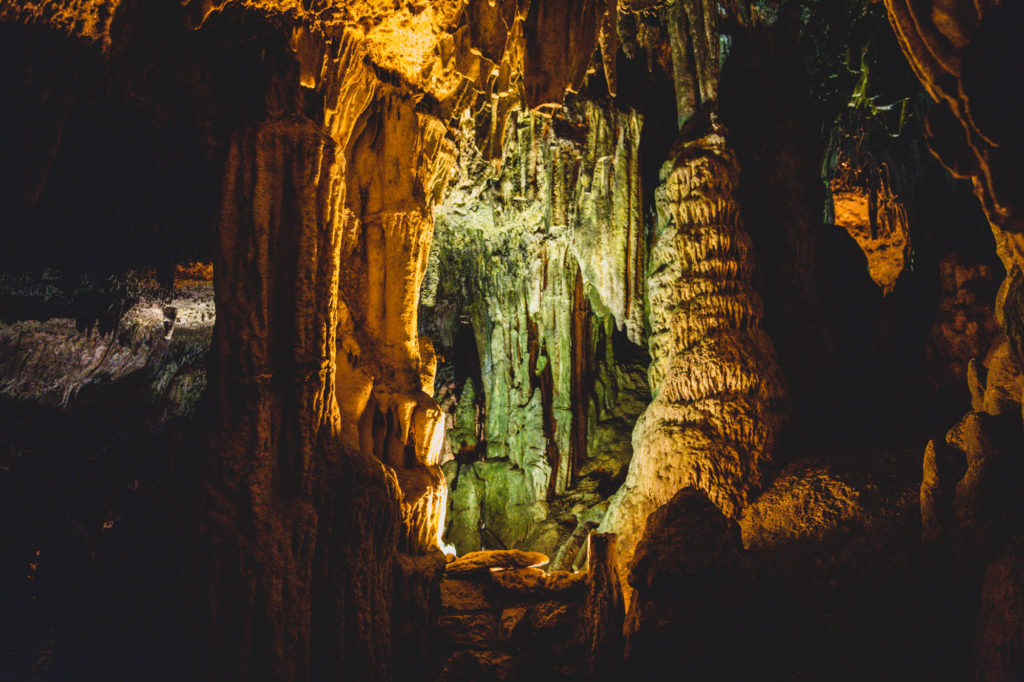 Just imagine the Grotte di Castellana start to form about 90 million years ago, its one of the most important attractions in Puglia, visitors are coming from all over the world to learn about those amazing caves. Of course, you can learn all these interesting facts online, but I just want to suggest you consider a dedicated trip to this marvelous caves that will bring you so many emotions and excitement just by walking through the path. I also suggest to have a guide that will make see things that you would not be able on your own, and possibly book one of the performance, Yes you heard me right! The caves at night become also a suggestive set for musicals, unfortunately, we did not have the time to experience any performances but I plan to do so very soon.
The fascinating town of ALBEROBELLOThe Land of Trulli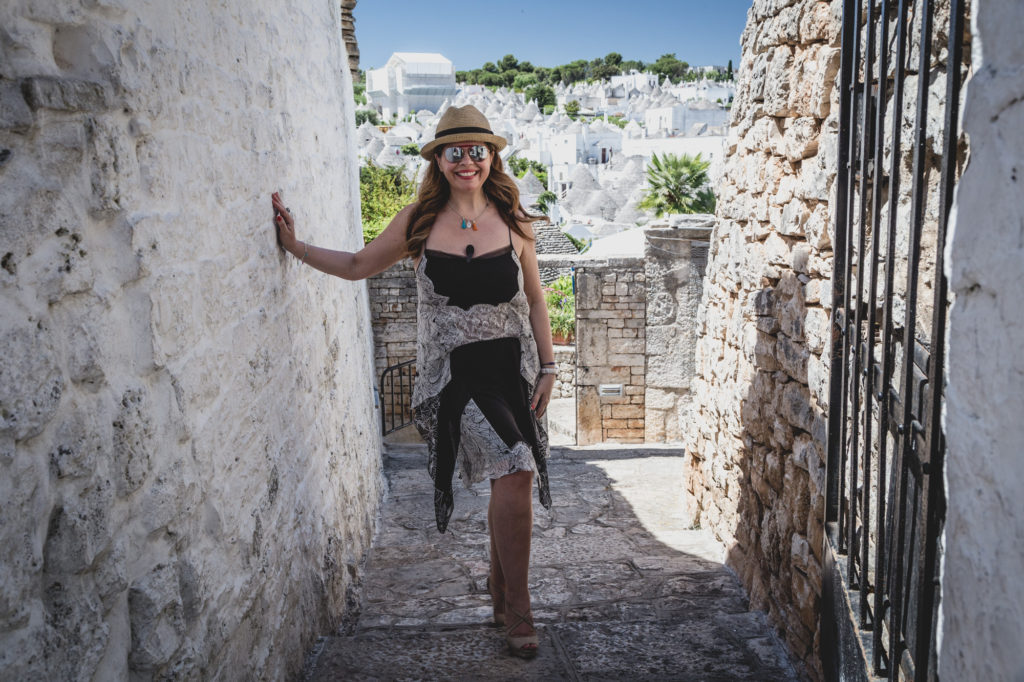 Our visit to ALBEROBELLO was a day full of enthusiasm, the town is a UNESCO world heritage site, and has a very unique story.
The town of the TRULLI is magical and charming and we had a blast visiting the live museum where we learned more about the old traditions, their crafts, and the living habit, we visited the Trulli (many are now B&B) we danced a traditional folk dance in the "Piazza" and I even accepted the challenge to play with an old toy (a spinning tops) and guest what? I surprised everyone when I succeed and the " trottola" was spinning in the middle of the piazza.
Visit my Instagram if you are curious to see this fun moment https://www.instagram.com/p/BzVxqlBBAxa/
The Stunning town of Polignano a Mare
After an amazing lunch (THE FOOD IS AMAZING IN PUGLIA) we are now visiting the stunning town of, POLIGLIANO A MARE, we did not spend much time in Polignano, but I was able to film the closing of my TV Show, and we all sang VOLARE right below the bronze statue of Domenico Modugno, (Mister Volare), the sun was very strong and we all got burned pretty bad. But who cares? We were all extremely happy by so much beauty.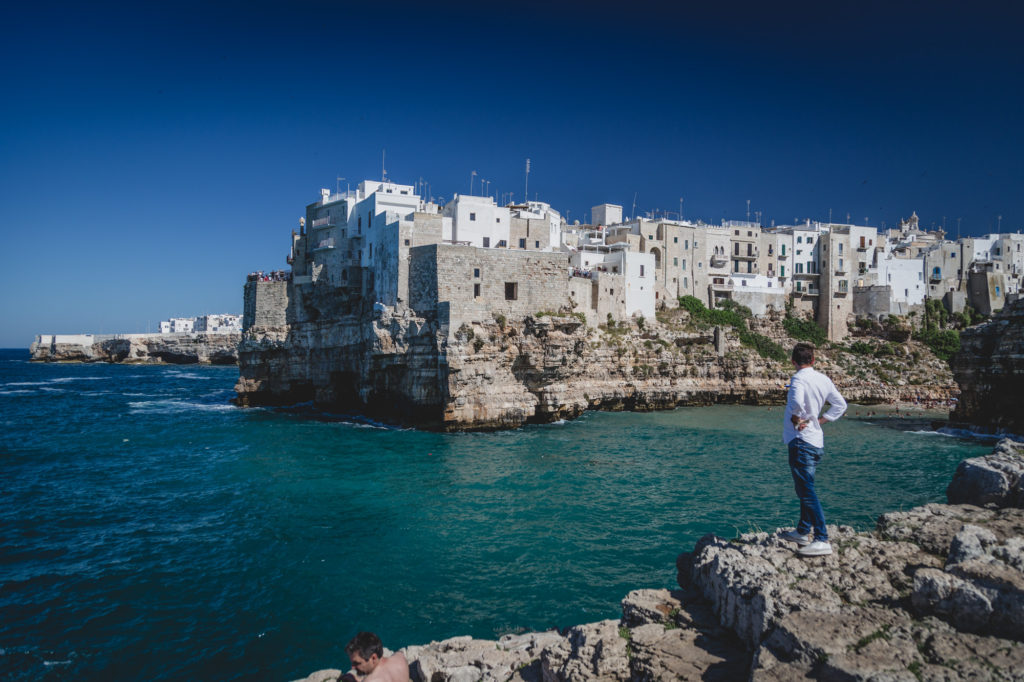 THANK YOU TO YOU ALL
I would like to thank every single person that made this trip very special from Lino Manosperta, the man behind this big operation, with charm and knowledge Lino showed us his beloved Puglia, we felt his enthusiasm for the project I Archeos and we enjoyed running from my place to an other eager to learn and see more, and WOW he showed us the best of Puglia in just few days.
I would like to thank Pasquale Martinelli, that with passion for his region prepared delicious dishes using the most genuine product the land has to offer.
Thank you to the fantastic Journalists Antonio Lorusso, (Tele Norba) Alessio Viola (Corriere del Mezzogiorno) and Michele De Feudis (Gazzetta del Mezzogiorno).
Thank you to my friend journalist Liliana Rosano and social media expert Maya Litovsky, it was so much fun spending some time with you!
Thank you to the Mayor of Mola di Bari Giuseppe Colonna for his warm welcome. Thank you to the Mayor of Acquaviva delle Fonti Mr. Davide Carlucci, for greeting us at the Azienda Agriconetto and taste the sweet red onion. Thank you to the director of the Grotte of Castellana for his welcome! And thank you to the Polvanera winery for their gracious hospitality during our visit.
Thank you to the wonderful staff at Ufficio Progetti (TEATRO PUBBLICO PUGLIESE) Sandro Furio, Anna Stasi, Tiziana Laurenza, Ileana Sapone and Alessandra Montemurro (Press office)Marilu Ursi (Communication), Ottavia Ricci expert Tourism at I ARCHEOS.
Thank you to Margherita Rotondi ( Associazione "Visit Mola") and Pasquale Sibilia (Communication office Mola di Bari). Thank you to GustiaMola project comune di Mola and PROGETTO I ARCHEOS workshop focus, New York.
Lovely to have met Camillo Marracino, Angelo Cirone, Francesco Pasculli, chef Tiziano Paolini, Blerta Tuci and the partners of the province of Pourec: David Belas, Elio Stifanic, Eduard Dzoni. Each single of you added something special to those days.
Thank you to the team of LE VIE DEL GUSTO Matteo Desiderio and Diana Baldi
A SPECIAL THANK YOU TO THE WONDERFUL TEAM MarconiWeb/Catila THAT CAPTURED THOSE MOMENTS ON CAMERA! Pier Domenico, Francesco and Giosi, thanks to you we can share these emotions with my American fans.
Last but not lease a super special THANK YOU to my boyfriend that with his humble and sweet personality has been by my side with grace and elegance enjoying and participating in every single activity, he has been also the perfect assistant producer helping me carrying bags as well as taking videos and helping me to close the shoes when my feet become 3 sizes bigger after an intense folk dance at 85 degrees.
For now Brindiamo! to you, all and I can't wait to share this adventure in one of my new show on AMAZON and on NYC MEDIA.

Project I-ARCHEO.S, financed by European Cooperation Programme 2014 – 2020 Interreg V-A Italy – Croatia Lead Partner Teatro Pubblico Pugliese – ItalyPhoto by MarconiWeb/Catila
ENJOY A SELECTION OF IMAGES