Recipe: Il Salame di Cioccolato (Chocolate Salame)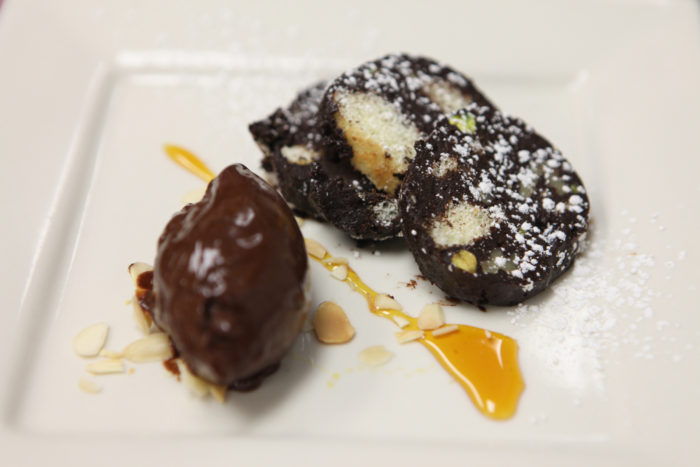 Recipe: Il Salame di Cioccolato (Chocolate Salame)
In many years of filming Brindiamo! only one time we made the delicious Salame di Cioccolato, while I am not a big fan of cured food and salami, I truly LOVE the chocolate salami, so I am very happy that chef Mauro Trabalza prepared one just for me and the fans of Brindiamo!
I met Chef Trabalza at his restaurant "Sora Lella Soho" in 2009. Chef Trabalza is now the executive chef at Trattoria Sora Lella.  
Sora Lella is the "nonna" of Mauro, she was also the owner, the cook and the soul of the Trattoria. The restaurant open its door in 1959 and its located in the charming Isola Tiberina in Rome, a must to visit place if you are in Rome and you want to try traditional roman's dishes.
Back to our delicious dessert.
The origin of the Salame di Cioccolato is Sicilian (and Portuguese) but the dessert is prepared all over Italy, often is prepared during Easter and Christmas, the dessert is very easy to prepare and you don't need to wait for an holiday to prepare it and and enjoy it! Actually I would suggest to prepared it over the weekend.
The dessert has different names, if you grew up like me with the "MANUALE DI NONNA PAPERA" you may remember that the dessert was called, Salame Vichingo.
In 2012 the Salame di Cioccolato has been officially included in the list of traditional Italian food products (PAT) of the Ministry of Agriculture, Food and Forestry.
Here the recipes made by chef Mauro Trabalza for Brindiamo!
INGREDIENTS:
2 cups of crumbled biscuits (Savoiardi or Oro Saiwa)
400 g sugar
2 cups cocoa powder
Almonds, pistachios, pine nuts, dried fruit apricots, plums
1 cup honey or 200 grams of cherry jam
(or even better result would be sour cherry jam) 31⁄2 cups butter
1 egg
Pinch of ground cinnamon or ginger
In a large bowl, crumble the biscuits well. Add sugar, cocoa powder, dried nuts and fruit, honey and butter that you previously dissolved in a hot water bath. Mix thoroughly until it gets soft and smooth, then spread the mixture on wax paper and turn it until it resembles the shape of salami. Seal it, then refrigerate the mixture for at least 2 hours. Once you can slice it, place it one plate garnished with caramel or chocolate mousse or with vanilla or chocolate ice cream to give it a touch of originality. You can add a little salt, vanilla, and a drop of extra virgin olive oil or honey.
Photo credit: Stephen Shadrach