Brindiamo! to Vito Centrone
I have been filming and witnessing my people's success in the hospitality business for over 15 years and I love to share their sorties and their success.
I met Vito Centrone in London several years ago. He was only 24 years old, but he had a clear vision of his future and a clear idea of how to run a viable high-end establishments.
I met him at German Gymnasium Restaurant, a landmark in London, the first on-purpose gym built in the UK in the mid-19th century, converted into an elegant and modern restaurant, winner of the Best Design award in 2016. I was having a drink with some Italian friends at the bar on the mezzanine level in this superb setting right before dinner;
Vito was having a pre-shift briefing with his staff not far away, and it comes naturally to me to observe the behind the scene as I love to capture those moments during my filming.
I could sense that Vito was very knowledgeable and competent, and I notice how the staff highly respected him. Vito was ready to lead an hectic evening and I was ready to have a enjoyable night.
The dinner was delight, I truly appreciate the beautiful atmosphere and the décor. Our waiter was very attentive, caring, and knowledgeable, and Vito was checking on us from time to time while managing the restaurant flawlessly. We felt well looked after throughout the experience.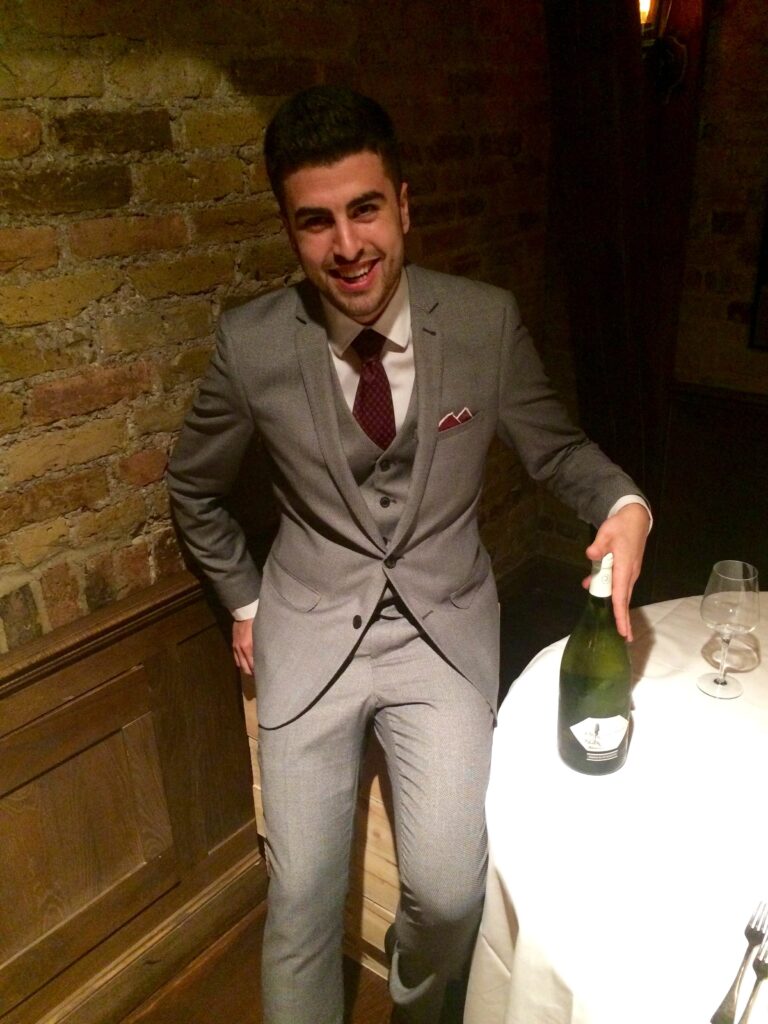 The day after the dinner I had the opportunity to meet with Vito to learn more about his passion for the hospitality business and learn about his dream and since then I've been following Vito's rapid progression within the company that took him first to Manchester and then eventually right here in New York City at "Bluebird London" in the Time Warner Building at Columbus Circle.
For Vito, coordinating staff operations and activities appears to be second-nature to him. Rightfully so, since he grew up in the restaurant industry – he is the son of a renowned Italian restauranteur.

Thirsty for knowledge and very keen to share it with his team, Vito's competencies space from wine (according to him, his greatest passion) to the highest standard of service, qualities that paired with his financial understanding in the industry make him an outstanding young restaurant manager, one to watch his next steps in the next few years.

And I can't wait to film a new Episode of Brindiamo! that features the success of Vito Centrone a young Italian GM and sommelier that brings a taste of Italy to the world with charm and elegance.