Happy 13th Anniversary Brindiamo!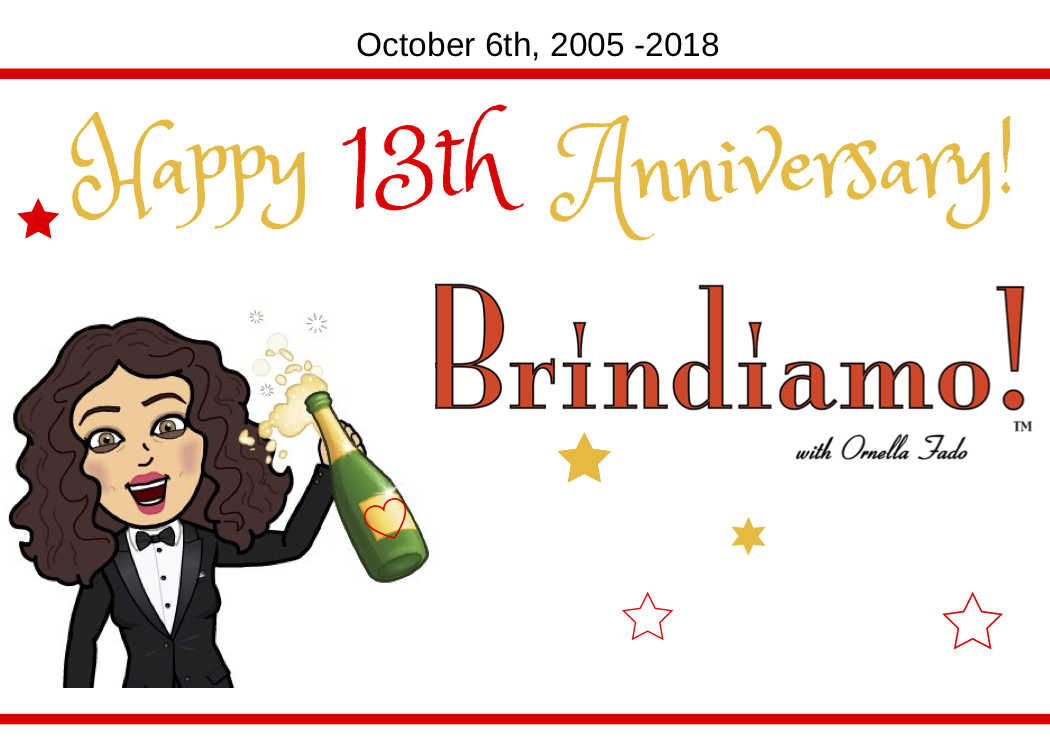 Happy 13th Anniversary Brindiamo!
Today, October 6 – 2018 Brindiamo! celebrate 13 years of Broadcasting on NYC MEDIA,
I cannot believe that has been already 13 years since the very first broadcasting of Brindiamo!
It was a Thursday afternoon and my show was airing before Lidia and soon after Nick Stellino at 3:30 pm.
One vivid memory is also the delivery of the show.
I would deliver the show every week just a few days before the broadcasting,
I would take the subway to Brooklyn and when I was at the TV station I would follow the person in charge and make sure he would place the Beta tape, on the Brindiamo!'s shelf.
(Yes we were using BETA TAPE at that time)
Once I remember he was a big strike, no train no taxi no bus, but the show must go on. So I walked from the Upper West side to Brooklyn, in one of the coldest days of the year, wearing big snow boots and a warm hat and gloves, holding tight on my Beta tape, and guess what? The show was pre-empted because the Mayor, at that time, Bloomberg, needed to announce that the strike was over just a few minutes before my airing time.
So many stories to tell, so many memories and so many challenges!
And here we are 13 years later, the TV's are thin as paper, and with a click, the shows are digitally sent to channels all over the world, but something did not change, YES MY ACCENT is still thick, my enthusiasm still alive and I have the same passion that inspires me many years ago to create, produce and host this wonderful show that allowed me to talk about my people.
HAPPY TO BE HERE TO CELEBRATE WITH YOU ALL BRINDIAMO!'S 13TH ANNIVERSARY
THANK YOU FOR YOUR SUPPORT!
If you are a fan of the show,  you know that Brindiamo!, honor Italian culture, food, and lifestyles in America, the country that I have learned to love as my own. In those past years, my mission has been promoting the "Bel Paese" and also help to erase any negatively stereotyped about Italians and Italy.
Brindiamo! is a celebrated collection of TV programs dedicated to all lovers of Italian traditions and culture, the show has been created primarily to feature successful Italians outside of Italy, trough authentic Italian restaurants, and also to satisfy the curiosity for one of the most fascinating cultures in the world.
In those past 13 years, I had the pleasure to visit some of the very best Italian restaurants and Pizzeria's in New York and Italy, with specials from Canada and Bermuda, I had the pleasure to meet and cook with some of the very best chefs and pizzaioli  in America, you all remember, Raffaele Ronca, Marcello Russodivito, Odette Fada, Pino Coladonato, Matteo Bergamini ,Michele Bellotti, Roberto Caporuscio, Michele Iuliano, Giulio Adriani ,and Lidia Bastianich, and many Michelin stars chefs and TV personalities in Italy such as Moreno Cedroni, Mauro Uliassi, Walter Ferretto, Alfredo Russo Fabio Pisani & Alessandro Negrini and Mara Martin,and all of them shared with me and my audience their delicious and unique recipes and stories.
Brindiamo! provides an informative, educational, yet fun window to everything Italian, and it is the only TV program that welcomes Italian celebrities in America, I had the pleasure to interview and introduce to my American fans, many personalities, from Massimo Ranieri to Carlo Verdone from Barbara D'Urso to Raf,  from Edoardo Bennato to Giovanni Allevi,  from Teresa De Sio, to crown prince of Italy Emanuele Filiberto di Savoia, from Sergio Castellitto to Oscar winner Vittorio Stoararo  just to name few.
Brindiamo! has been an unforgettable growing experience as a person, businesswoman, and artist. The fact that we are now celebrating 13 years is ultimate because of you! my loyal and growing audience, which has supported me with wonderful feedback every day and is continually asking for more Brindiamo! episodes and more Brindiamo! experience.
I would like also to thank all the people behind the cameras of Brindiamo! and my editors.
You all brought so much experience and knowledge to my life
THANK YOU!
So in those years, I created many Brindiamo! experiences and events and many special editions such as Brindiam! on The Sea, Brindiamo! International Cuisine, and Brindiamo! in my kitchen.
Please join me as I bring you more of the very best of Italy, in the world with the newest digital platform Brindiamo! Guide, an informative colorful site where you can "Toast to Everything Italian" in the world and a collection of a new and old show on AMAZON Prime featuring some old and original Brindiamo! in 69 different countries in the world.