Brindiamo! to the People behind my cover shoot on Christopher Magazine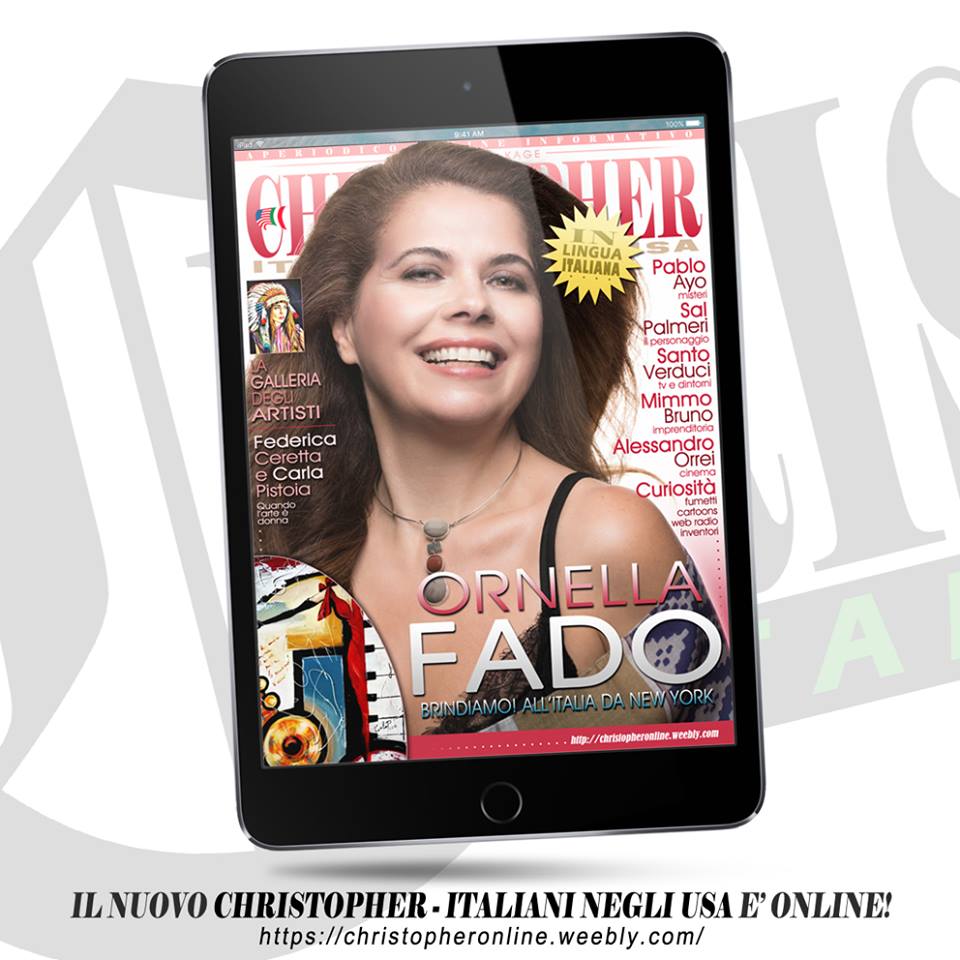 Brindiamo! to the People behind my cover shoot on Christopher Magazine
Thank you to my great team and to Christopher Magazine
And just a few weeks ago the magazine was released.
And here I am on the cover of the eightieth editions of 
Christopher Magazine
, a new, interesting, informative and engaging editorial about successful Italians outside of Italy, (actually I just learned that the upcoming editions will also feature stories about Italians in Italy).
When Joe asked me to be the "Cover Girl " for the Magazine, I  was of course very honored and so I decided to send him a series of new fresh unpublished pictures (mixed with some old images) and thanks to my good friend and fabulous PR, Barbara D'Antonio – Phillips and 
Manale Dagnew
, an Ethiopian fashion designer, I found a great photographer
Sylvia Hoke
, and together with Joe, we choose the "feeling" of the cover.
At this point, I had all the key people for my photoshoot and on a very hot day in July I am heading to Brooklyn to meet my amazing team.
The first thing we did was taking care of  "makeup &  hair" (of course, the day before I went to my "Expert in beauty"
Federico
, to make sure that my hair would be camera ready).
And then it was time to choose the right jewels and scarves for the photoshoot.
The talented Tomo Shionome, create a very natural and fresh look for the cover, she uses all the colors that I practically use every day, bronze and brown, the lipstick was extremely natural and so were my eyelashes (no fake eyelashes for me).
After we took care of the makeup it was time to choose the right jewels and scarves, from a collection that has an important mission,
Manale international. 
What I love about this collection is the message, of course, the scarves and the jewelry are absolutely gorgeous, I love the color the fabric (cashmere and silk) but the spirit is what set Manale apart from everybody else.
Manale said: " I adapted the design motifs and colors from my Ethiopia's North and South to create an exclusive collection of scarves, wraps, neckties and pocket squares. These unique creations have been transposed onto luxurious fabrics that are woven and printed in Italy. The collection is inspired by the practice of the North's traditional weaving and the South's intricate body painting. Jewelry is yet another opportunity to bring the bounty of Ethiopia to a broader audience. Ethiopia is rich in semi-precious gemstones, particularly Chrysoprase and Amethyst. These raw stones are cut and polished there before being sent to Italy to be set in sterling silver by Italian craftsmen".
As I said before the spirit set this fashion designer apart, 10% of the sale will go towards a girl's education project in Ethiopia. Raising awareness of African culture and art is the ultimate mission for Manale, which is to raise the level of girls education in rural regions so that it benefits Ethiopia's agricultural communities.
Going back to the interview featured in the Magazine, Joe had a question for my daughter Carolina, here is her answer.
WHAT YOUR DAUGHTER THINKS ABOUT YOUR CAREER?
( Carolina's answer)
This is a tough question! It's difficult because it can be a very challenging career path, and it is one in which all the work falls on my mom's shoulders without anyone to help her carry the weight. The nature of having your own small business, especially in the entertainment industry, which you work in independently is that you are in charge of your content, your work week, and your ideas—but also the financial burden, the conflicts, and the growth. For someone like me, who — by some miracle has given that both my parents' professions are in the entertainment business— prefers a steady profession in an office or a classroom, many of the things my mom has to deal with on her own would drive me crazy! 
But! Given all that, my mom loves her work. She has been involved in entertainment her whole life when she started as a ballerina. For the past 13 years in the U.S. as she created Brindiamo! she sought to learn and speak of the Italian community and its authenticity. And discussing your homeland and putting on original creative content — and hosting it— is a joy to watch and I know it's a joy for her to make. 
So, despite all the challenges of the industry, I so admire her ability to pursue her dreams, to do so in an authentic way, and to overcome her obstacles! She reinvented herself when she came to the U.S., leaving behind her successful career in Italy and her family, and she has done so with so much grace. She works so hard, she is so creative, and literally comes up with new ideas every day. And she does it all with a smile, and by literally being the nicest person I know! 
Below some beautiful images of Sylvia Hoke
I am wearing the scarves and the  jewelry of Manale International