Celebrate Thanksgiving with a sweet turkey!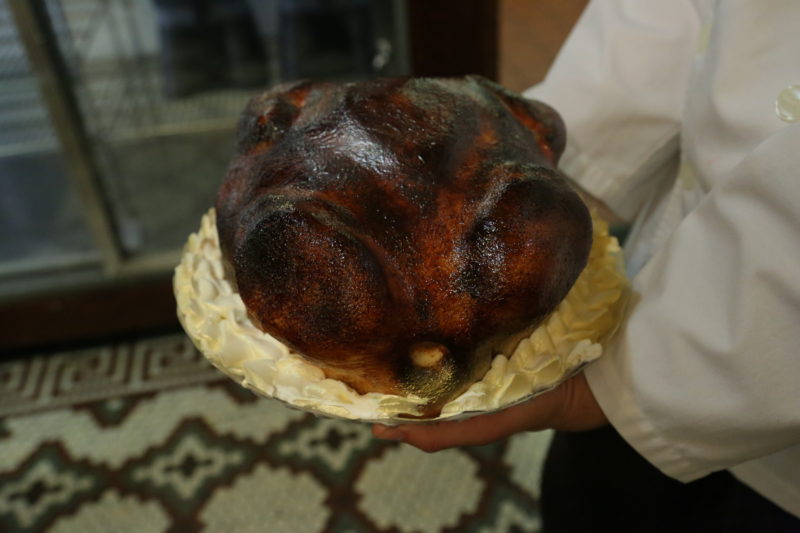 Celebrate Thanksgiving with a sweet turkey!
Just a few weeks ago a filmed a new episode of Brindiamo! and I had the pleasure to meet the sweetest family in the world!
The Fiorentino's family.
The new show was filmed at Pasticceria Monteleone in Brooklyn one of the most authentic Italian Pasticceria in New York.
Antonio opened this beautiful Pastry shop in Brooklyn in 2011, and he is running the "sweet show" with his wife Teresa and his children Rosemarie, Giuseppe and Salvatore.
Antonio Fiorentino was born in a small town called Porto Empedocle in the province of Agrigento in the beautiful island of Sicily. He moved to New York with his father and Mother in 1977, when he was 17 years and he brought with him his passion for beautiful and sweet things and a sunny personality.
"I learned so much from my Zio Domenico a great man and pasticciere, so good and talented that they were calling him IL MAGO". Antonio Said.
This pasticceria Monteleone is truly a magical place where you can find anything you love from traditional desserts, such as cannoli and cassate siciliane to classic American cakes such as the Red Velvet, you can also find sfogliatelle, babà, bignè, cute marzipan shaped of fruits (my very favorite sweet) you can also share your ideas and Antonio will customize your cake for any occasion, birthdays, baptisms, christenings, and weddings or just any special occasion such as Halloween and Thanksgiving.
My crew and I  spent the most delicious day, we try everything they were preparing, we felt we were in the Willy Wonka & the Chocolate Factory.
With pastry chef Antonio we prepare fantastic cannoli siciliani and we made from scratch several different marzipans, he made a romantic wedding, the cake so pretty that we all wanted to get married right there!
With Giuseppe, we prepared a delicious Red Velvet cake, and Piero, prepared three classic flavors gelato, vanilla, hazelnut and pistachio and also a unique cake called the "Sette Veli".
Everything in the "Laboratorio" of Antonio is delicious and good looking.
I was enchanted by every single cake, from the traditional cakes to the custom-made cake, like the Turkey cakes he prepared for the upcoming Thanksgiving.
Actually, here is an idea for your upcoming Thanksgiving… a sweet turkey!
Until the show here few images of the behind the scene of Brindiamo!