Brindiamo! To "Italy on screen Today" (with video interview)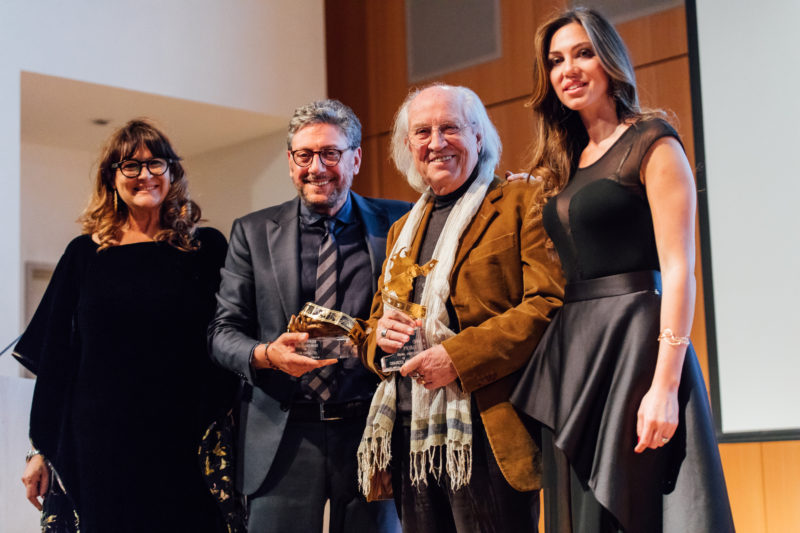 Brindiamo! To "Italy on screen Today" (with video interview) 
Italy on screen Today is back for the second year in NY and I had the pleasure to meet some extraordinary people starting from Sarah Masten (Festival Coordinator) and Loreadana Commonara (Artistic Director)
Before the movie screening and the award ceremony, I had the pleasure to interview three wonderful people my first guest was Paolo Masini creator and coordinator of MigrArti. Mr. Masini is the adviser of Mr. Franceschini, Minister of Beni e delle Attività Culturali e del Turismo.
Paolo Masini told me how important is to give a voice to immigrants and communities in Italy trough cultural events such as dance, music, and movies, all these activities create awareness about different cultures and positive knowledge.
MigrArti offering to minorities the opportunities to tell their stories and "to shine".
I am personally very sensitive about this subject, I am an immigrant in America, and as an immigrant, I felt the need and the desire to erase the bad stereotype of Italians and give a positive image of my people in America, thanks to my tv show Brindiamo! I was able not just to talk about good food and good wine but my main goal was to talk about the success of Italians in America and bring awareness and knowledge about a modern Italy.
Soon after my interview with Mr.Masini, I meet Sergio Castellitto, Sergio is a great Italian actor and director, in the past years has been very successful thanks to his diverse interpretations and thanks to his talent.
One of his biggest success is "DON'T MOVE", a 2004 movie based on the novel of  Margaret Mazzantini, featuring an extraordinary Penelope Cruz and a remarkable Sergio Castellitto, the movie was nominated at the David di Donatello for "Best Director", "Best Film" and "Best Screenplay".  Mr. Castellitto works side by side with Margareth Mazzantini well-known writer and also longtime wife and mother of his four children.
Sergio said, "Margaret inspired me to explore the possibility to become a movie Director".
I had the pleasure to work with Sergio several years ago, it was such a pleasure to see him again after so many years. I brought him a special gift, a "behind" the scene image of us dated 1986 during the rehearsal of "Sentimental" a Television show produced by RAI.
After the Q&A hosted by Andrea Visconti, Eleonora Pieroni gracious presenter, introduce the award ceremony, and Loredana Commonara artistic director of the event reads the endorsement for his great work as actor and director to Mr. Castellitto, Sergio received THE "NINO MANFREDI ART EXCELLENCE AWARD".
And to make the evening even more special, THE "WIND OF EUROPE" AWARD was granted to one of the most well respected and talent cinematographer in the world, four times nominees and three times Oscar winner VITTORIO STORARO.
In the past days, I did a full immersion into the career of "Vittorio Storaro" I was really looking forward to meeting him and have a little chat about his amazing career.
I feel truly grateful that somehow we manage to have an exclusive interview with Mr. Storaro before he was pulled away for dinner, luckily next to the exit door the was a dressing room and we just walked in and sat, we had no time to set up lights or even have the microphones on, we just had a lovely and honest chat.
Mr. Storaro was everything I thought he would be, a modest and humble man with an amazing charisma.
ABOUT Vittorio Storaro
Vittorio Storaro was born in Rome in 1940, he is married to Antonia and has three children, Mr.Storaro is considered one of the best cinematographer of all the time.
He wrote a trilogy of books, "STORARO: WRITING WITH LIGHT" and "ART OF CINEMATOGRAPHY"
He did over 60 movies over his career, working with some of the most talented directors in the world such as Francis Coppola, Warren Beatty, Bernardo Bertolucci and Woody Allen, just to mention few.
Mr. Storaro won many awards among them three Oscars for best cinematography: Apocalypse Now, Reds and the Last Emperor.
And now enjoy the video and the interviews.