Master Classes with Pastry Chef Valentina Urizio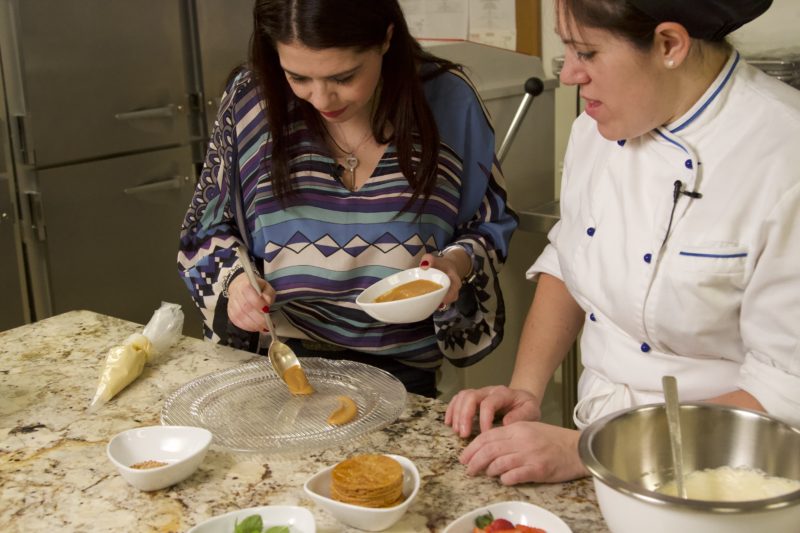 Master Classes with Pastry Chef Valentina Urizio
From February 14 to February 17 
In 2013 I had the pleasure to meet Valentina Urizio, at that time Valentina was a pastry chef at SD 26, one of the most well known Italian restaurants in New York City.  I remember how impressed I was with Valentina's talent, she made for Brindiamo! a millefoglie, one of her very favorite dessert.
INTERVIEW WITH PASTRY CHEF VALENTINA URIZIO
Q.Valentina where are you born?
A. I was born in Forlí a beautiful city in the region of Reggio Emilia.
Q. Where did you study
A. I studied at the IAL but the real training for me was working at prestigious restaurants, I was an intern for five years at the San Domenico restaurant in Imola and then I had the pleasure to learn from the very best: Gualtiero Marchesi in Franciacorta and Gianfranco Bolognesi at La Frasca. At first, I wanted to learn everything, from homemade pasta to fish and meat, but eventually, I was attracted by the art of baking and making bread and cakes,  I wanted to make my own gelato, chocolate, and cookies.
Q. What brought you in America?
A. I came to New York for a training program at San Domenico restaurant.
Q. How was your experience in the big apple?
A. The experience was very exciting and useful, I learn more about the taste of Americans, I learned that the pastry needs to be much bigger than in Europe and that Americans also love their dessert much sweeter than in Italy.
Q. Eventually you left New York and moved to London, how was London?
A. London was very expensive! (LOL) but great. I worked first at Toto's restaurant and then at the prestigious Brunello restaurant in the Baglioni Hotel.
Q. Where do you live now?
A. I am back to Italy and am very happy to be close to my family and friends, I am a proud aunt and I am looking forward to my new exciting projects next May at Milano Marittima.
Q. Are you happy about this new adventure in New York?
A. Yes! I am super excited about this new master classes in the city, it's going to be a lot of fun, we are going to learn how to make may fantastic dessert from: Il Cremoso di Nocciola to Il Millefoglie, Cioccolatini cremini to Bomboloni, from Bavarese Pistacchio, Pastafrolla Biscottini to the Sacher Torte, to Zabaione Cake and Valrhona Dark Chocolate.
*********************************************************************************************************************
Today I would like to share a  sweet recipe with you all dessert and invite you to learn more about her master classes here in New York City.
CRUNCHY MILLEFEUILLE WAFFLE WITH FEUILLETTINE, CHANTILLY, AND RASPBERRY
FOR ABOUT 20 SERVING
 CRISPY FEUILLETTINE WAFFLE
1 Kg Feuillettine
1 Kg powdered/ icing sugar
Spread a thin layer of feuilletine in 8/ 10cm.diameter steel rings.
Sprinkle each mold with powdered sugar.
Remove the steel rings and caramelize.
CUSTARD CREAM
750 g milk
250 g heavy cream
 1 vanilla bean
 200 g egg yolks
250 g sugar
90 g cornstarch
Boil milk, cream, and vanilla bean.
Mix egg yolks, sugar, and cornstarch with the whisk.
When the milk is boiling, remove the vanilla bean with a spoon and pour the egg mixture into the milk. Continue to mix, without stopping ( otherwise it makes lumps ).
Allow to boil for one minute, remove from the stove and spread on a gastronomic plate. Cover with the cling film to cool down in the blast chiller.
CHANTILLY
500 g custard cream
500 g whipped cream
3 gelatine sheets
Melt gelatine sheets first in cold water then with 15 g Maraschino.
Add the gelatine to the custard cream and mix quickly with the whisk because it thickens quickly.
Finally, add the whipped cream and mix everything together.
4/5 baskets of fresh raspberries and we will see together how to proceed to assemble the dessert.
Boil and reduce almost half of the mix and filler. Let it cool and serve with dessert.
Do you want to impress your friends and family?
Pick one or more Master classes with Valentina Urizi
SEE YOU THERE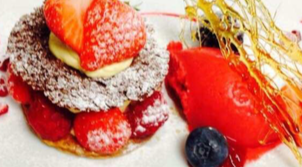 Few Images during the filming of Brindiamo!