When Fashion, Food & Music come together, great things happen! (Watch Video)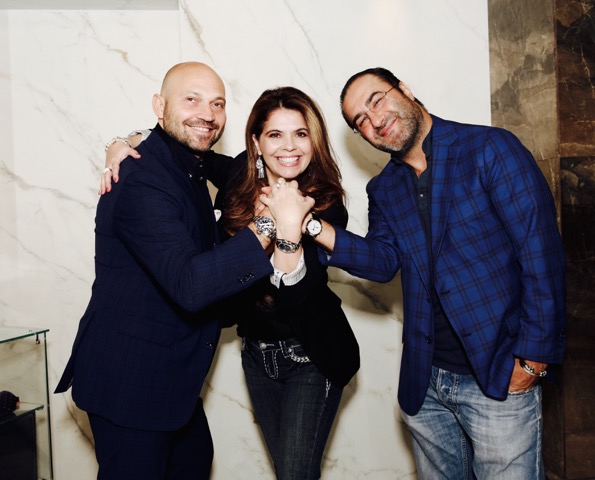 When Fashion, Food & Music come together, great things happen! 
On September 12 -2017, Nedo Bellucci and Giulio Bonaccio open the door to a new boutique located in the Michelangelo Hotel in New York City,  right in the heart of Manhattan. The boutique is called "OROLOGIO & BELLUCCI".
This charming store is the result of a partnership between two Italian businessmen that combined their passion for luxury, Giulio, and Nedo.
Giulio Bonaccio is the man behind "Orologio", Mr. Bonaccio specialize in collectible, rare and hard to find watches such as Patek, Philippe, Officine Panerai, Rolex, Audemars Piguet, Breguet and much more.
Nedo Bellucci is the man behind Bellucci Napoli. Mr. Bellucci's philosophy is "bespoke suits of the finest quality… bespoke shirts that fit like no other… fine accessories to complement the garments… this is Bellucci Napoli".
Just a few days before the Grand opening of "OROLOGIO & BELLUCI" Nedo and Giulio asked me to be part of a new exciting adventure at the Michelangelo Hotel.
For this particular event, my first thought was to create a night to support the Victims of Hurricane Harvey in Houston. So I asked my generous friends, chefs, and restaurateurs to donate gifts for the raffles so we could raise money for the fundraising "AMO HOUSTON" I also asked to donate food, and wine to delight our guests.
As result we created a night to remember, Giulio Bonaccio is not only an expert in watches, he is also a talented D J and with his music and musicians the event was definitely a lot of fun, the food was delicious and so was the wine, people were socializing and networking, dancing and supporting a good cause.
I dedicate this video to all my friends and fans and all the partners and donors that made this night a success!
Brindiamo! to you all.
I am looking forward to seeing you all at our next party!
"Spooktacular Halloween Glamorous Costumes Party" for another night to remember.
October 31st at 7:30 pm at the Michelangelo Hotel NY.