Let's get together at Filaga!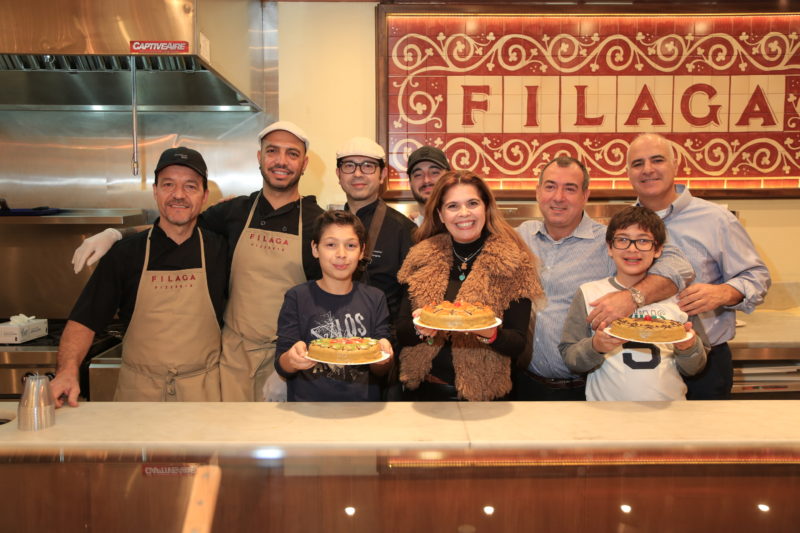 Let's get together at Filaga!
On Tuesday, December 5th the brigade of Filaga's Pizzeria organize a very spontaneous "Let's get-together" Italian style event.
The evening was delightful! Lovely company and amazing food.
Francesco Pecoraro welcomes everybody with a portion of caponata (a traditional Sicilian dish made with eggplant) and then the evening went on and on with many slices of Pizzas, from PARMIGIANA PIZZA to QUATTRO FORMAGGI, and everything between.
Filaga pizzeria & rosticceria opened in March 2016 the concept was founded by native Sicilians and this is why you can smell and "feel" the beautiful region of Sicily in every bite.
Originally the Filaga's pizzeria was only offering "Pizza al Taglio" "Pizza ripiena" and "Pizza Gourmet" but eventually, they add arancini, zeppole, crocchette di patate and calzone (rosticceria siciliana) making Filaga the perfect place to experience Sicily in New York.
Now you may ask: "What FILAGA means? "
Filaga is the name a small town in Sicily in the province of Prizzi (Palermo), Filaga is also the hometown of  Vincenzo (the owner) and Francesco Pecoraro executive chef and owner of the fabulous Autentico Ristorante.
Filaga's pizzeria is located in the trendy meatpacking district at the Chelsea Market.
The Chelsea Market has that magical atmosphere that attracts six million visitors per year, many are tourists of course, but much more are local New Yorkers that love to stroll, shopping and of course EAT.
There are about forthy eateries to choose from, from upscale Italian restaurants such as Rana Ristorante to small noodle soup shop, from sushi places to bakeries and charming coffee shops.
In only 15 years the Chelsea market has become one of the greatest indoor food halls in the world, and Italy is represented with some of the very best brands such as L'Arte Del Gelato, Giovanni Rana PASTIFICIO & CUCINA, and FILAGA'S Pizzeria. 
One of the very first markets in the Chelsa Market is Buon Italia a place where you can find any imported Italian specialty, from coffee to regional cheese, from charcuterie to fresh homemade pasta.
Buona Italia just moved into the newly renovated lower floor, serving still the very best Italian products in the city.
Here few images of this fun night!